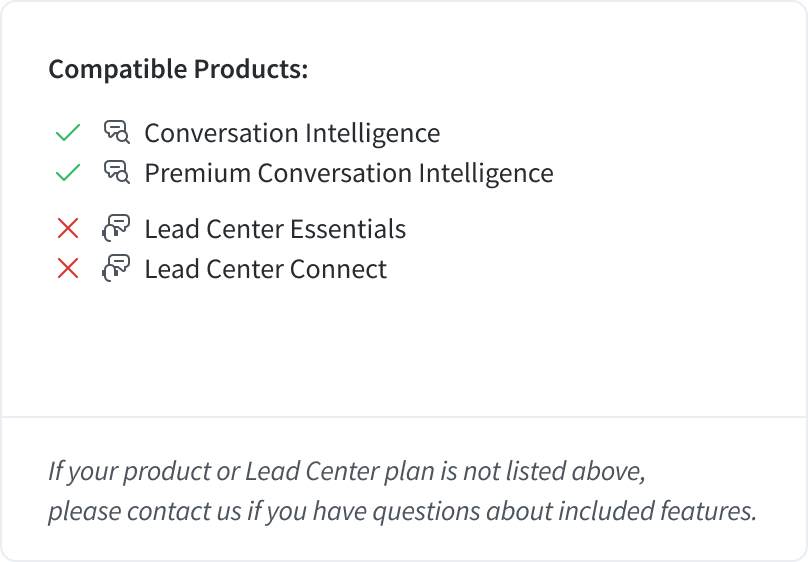 Heads up
By the end of 2023, we will be deactivating our CallScore functionality and improving access to the more enhanced Automation Rules. Automation Rules provide a more sophisticated classification for calls, chats, and forms. You can learn more about Automation Rules here.
CallScore classifies your calls as qualified leads depending on criteria specific to the industry you serve. With CallScore, we'll automatically score each incoming call based on machine learning models that have been tested for accuracy. Once a call is automatically scored, you can see the caller's score within your activity dashboard, email notifications, and call details pages.
Getting started
Call recording will need to be enabled for tracking numbers that use CallScore. CallScore messages can only be read in English.
Learn how to enable call recording for your tracking numbers.
Set up CallScore
Click the Settings icon on the left navigation bar.


Choose the company where you'd like to add CallScore.


Click Workflow at the top of the page.


Choose CallScore from the Automation header on the left.


Click the name of the company you'd like to edit from the list. Slide the toggle to ON.


Choose whether you'd like to score all calls or score specific calls. If you choose the option to score specific calls, you'll see a table appear. Pick the tracking number, call type, duration, and/or tags to set parameters for the calls we should score.


Click Save to activate CallScore.
Find and update a CallScore
Once you've activated CallScore for your account, you can view and change any call's score from your call log, caller timeline, or Lead Center. Follow these instructions to learn how to find or update a call's score on the call log.
Click Analytics on the left navigation bar.


Find the Qualified column on your call log, and press the + icon that appears when you hover over the column. Note: You may need to add "Qualified" to your table settings if haven't already.




Select the thumbs up icon to score the call as a qualified lead, or click the thumbs down to indicate the call was not a qualified lead.




Once you've received calls that have been scored automatically, the CallScore tooltip will tell you who scored the call. You'll see "CallScore scored this call as a qualified lead" if it was automatically scored, or you'll see the name of the user who scored the call if the call was manually scored.