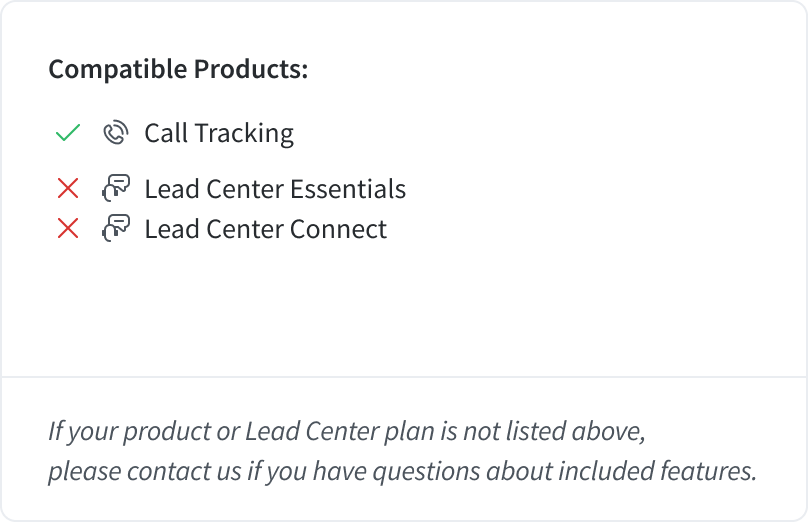 We will be ending support for the iOS 14 operating system. Please make sure you've updated your device to the latest iOS version.
The CallRail mobile app lets you stay connected to your call activity wherever you are. This article will walk you through some of the most common issues and how to troubleshoot them.
If you need help with our Lead Center mobile app, use this article instead: Lead Center Mobile App Troubleshooting.
Getting started
Before you start troubleshooting, make sure your CallRail mobile app is up to date.
Basic troubleshooting
Before starting to troubleshoot a specific problem, here are a couple basic troubleshooting steps you can take.
Uninstall and reinstall the app.
If you are using an Android device, try clearing your app cache.
Log out of the app and log back in.
Next, we've collected some common CallRail mobile app issues. If one of the sections below describes the specific issue you are experiencing, you can use the guide linked in that section to help you troubleshoot.
I can't login into the app
If you're having trouble logging in, check out our Community post on the subject.
I see a blank white screen when I open the mobile app
To fix this behavior, force stop the app, clear your app cache, and then try to log into the app again.
My app isn't properly displaying data or logs
If you aren't seeing current call or text data when you log in, try clearing your app cache.
Outbound calls aren't recording even when I select the option
If your outbound calls aren't recording, check to make sure the setting to "Allow agents to record outbound calls" is enabled in your account.
Learn more about outbound call recording.
Please note: we do not turn on the option by default for every subsequent call.
I can't select my account's Global Tags
Global Tags can only be selected in the CallRail desktop app, and are currently unavailable in the mobile app.
I'm not getting push notifications
If you're not getting push notifications, use this article to check your notification settings. If those are set up correctly, you can check your device's notification settings by using the instructions below.
Android notification instructions.
iOS notification instructions.
I can't log out
If you can't log out of the mobile app, we recommend uninstalling and reinstalling the mobile app.
My mobile phone doesn't ring when I place an outbound call
If you're experiencing this issue, there are a few things to check.
First, ensure the number you are trying to dial is correct. Next, make sure you are entering your mobile number into the Your Number field, and not the CallRail tracking number. The CallRail tracking number should be entered in the Caller ID field.
Spam block features
Do you have any spam block features enabled on your device, such as T-Mobile Scam Block, or the iPhone Silence Unknown Callers feature? If so, you can deactivate them using the instructions below.
iPhone Silence Unknown Callers.
Do Not Disturb
Was Do Not Disturb enabled on your device when you tried to place the call? We recommend deactivating this feature. You can use the instructions below to deactivate this feature on your device.
Turning off Do Not Disturb on iOS.
Turning off Do Not Disturb on Android.
Please note: You can return a call to someone who previously called your tracking number. However, if you need to call someone who hasn't called you first you'll need Lead Center.
If you're still having issues after following these troubleshooting steps, you can contact our Support team with your device type and model.