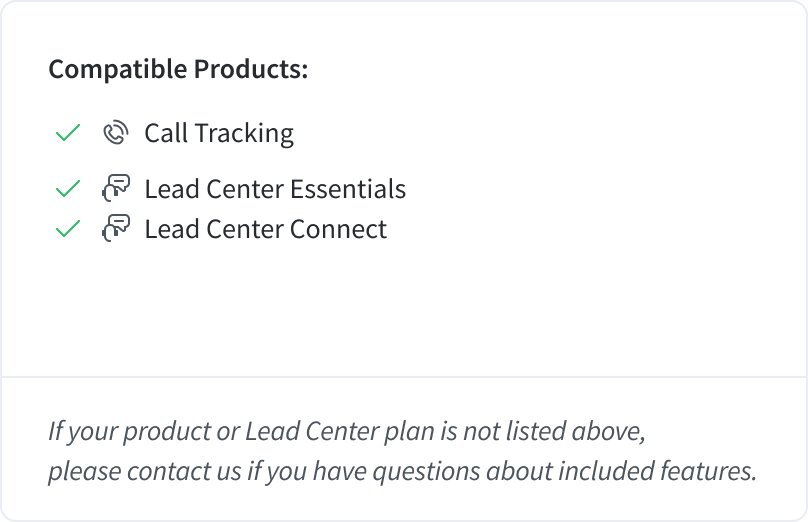 CallRail's Google My Business (GMB), now called Google Business Profile, integration seamlessly inserts a tracking number into your GMB listing for use as a primary business number. In this article, we'll cover how to set up the GMB integration with multiple locations.
Getting started
If your business has multiple locations, you can connect the first location through our GMB integration, and then follow the instructions below for each additional location.
Setting up Google My Business for multiple locations
Follow these instructions to manually set up your GMB integration if you have multiple locations.
Create a new tracking phone number by clicking the plus icon at the bottom of the left navigation bar.


When presented with options, choose I'll use it online, then somewhere else, and then somewhere else. Personalize further details as necessary. We recommend naming the number something specific to your business's location.


After the number's creation, click the Settings icon on the left navigation bar. Locate your new number and click the pencil icon to edit its settings.


On the next page, click the pencil icon in the upper-right of the Number Insertion Options section. On the page that follows, scroll down to the Tracking Sources section and select Google My Business.


When creating your listing in GMB, insert the tracking number you created into the Contact phone number field on the screen requesting your contact details.


For the most accurate call-tracking, in the Current website URL field, amend the following to the end of your URL:

/?utm_campaign=GMB


An optional Google Ads location extension can be added to guide leads from your ads to your GMB profile. See this help article for more details on location extensions.
Adding your tracking number to a GMB account
Once you've created the tracking number in CallRail, you can add the tracking number to your GMB account.
Log into your GMB account.


Click on the menu in the upper-right corner.


Choose Business Profile settings.


Choose Advanced settings.


Under the Contact information section, enter the CallRail tracking number you created in the primary phone field and enter your main business number in the additional phone field. Click Save.

Note: if you'd like to use location extensions, you can follow the instructions in this support article instead.