When you use a CallRail tracking number in your Google My Business listing, you'll get a complete set of accurate data for every lead—with no risk of damaging your Google search position.
What is a Google My Business (GMB) listing?
Every business that serves a specific geographical area can set up a GMB listing. Listings display on search results pages and Google Maps when someone searches your business or keywords your business ranks high for.
As the business owner or representative, you will need to verify your identity with Google and provide basic information such as the business name, address, hours, and phone number.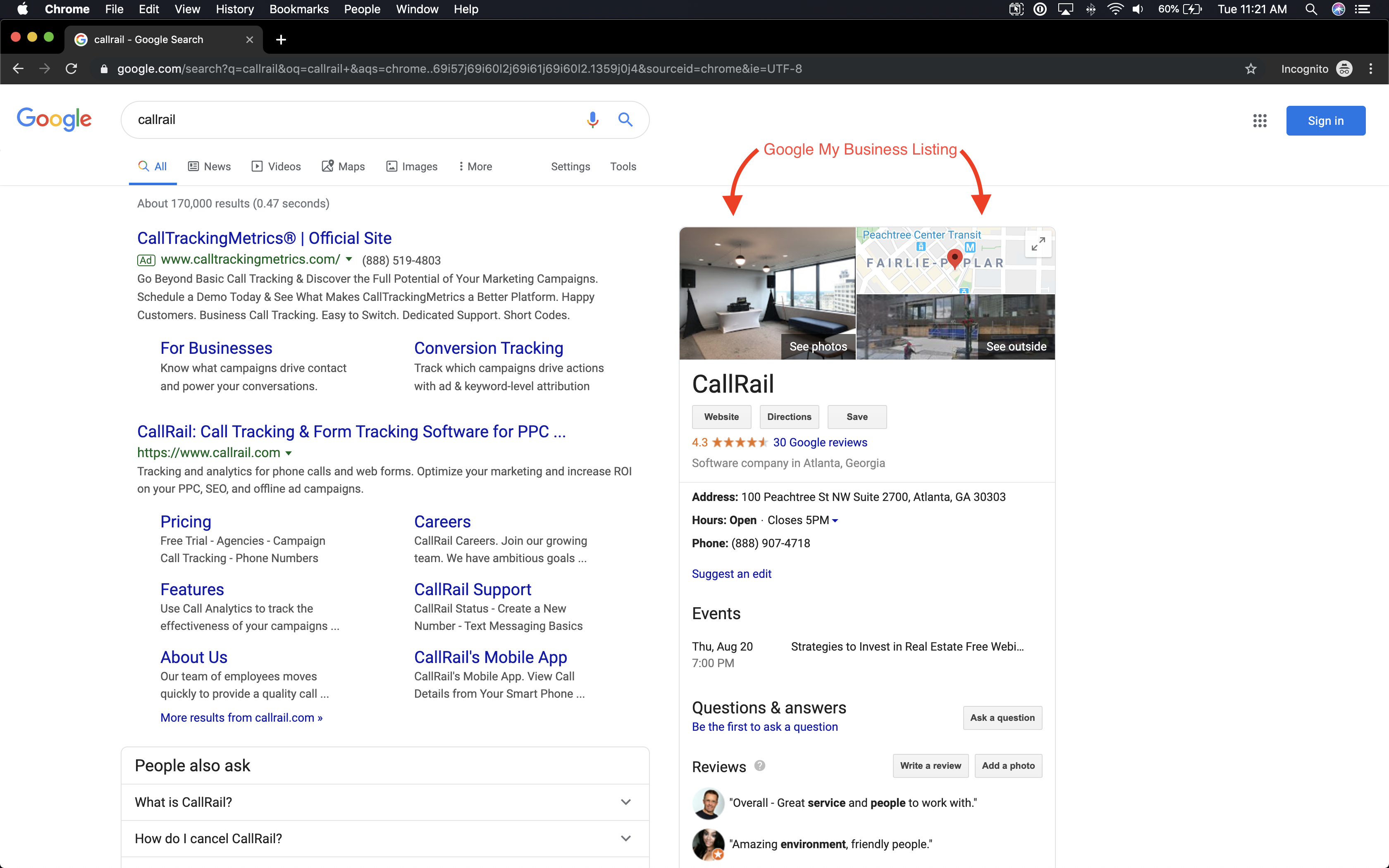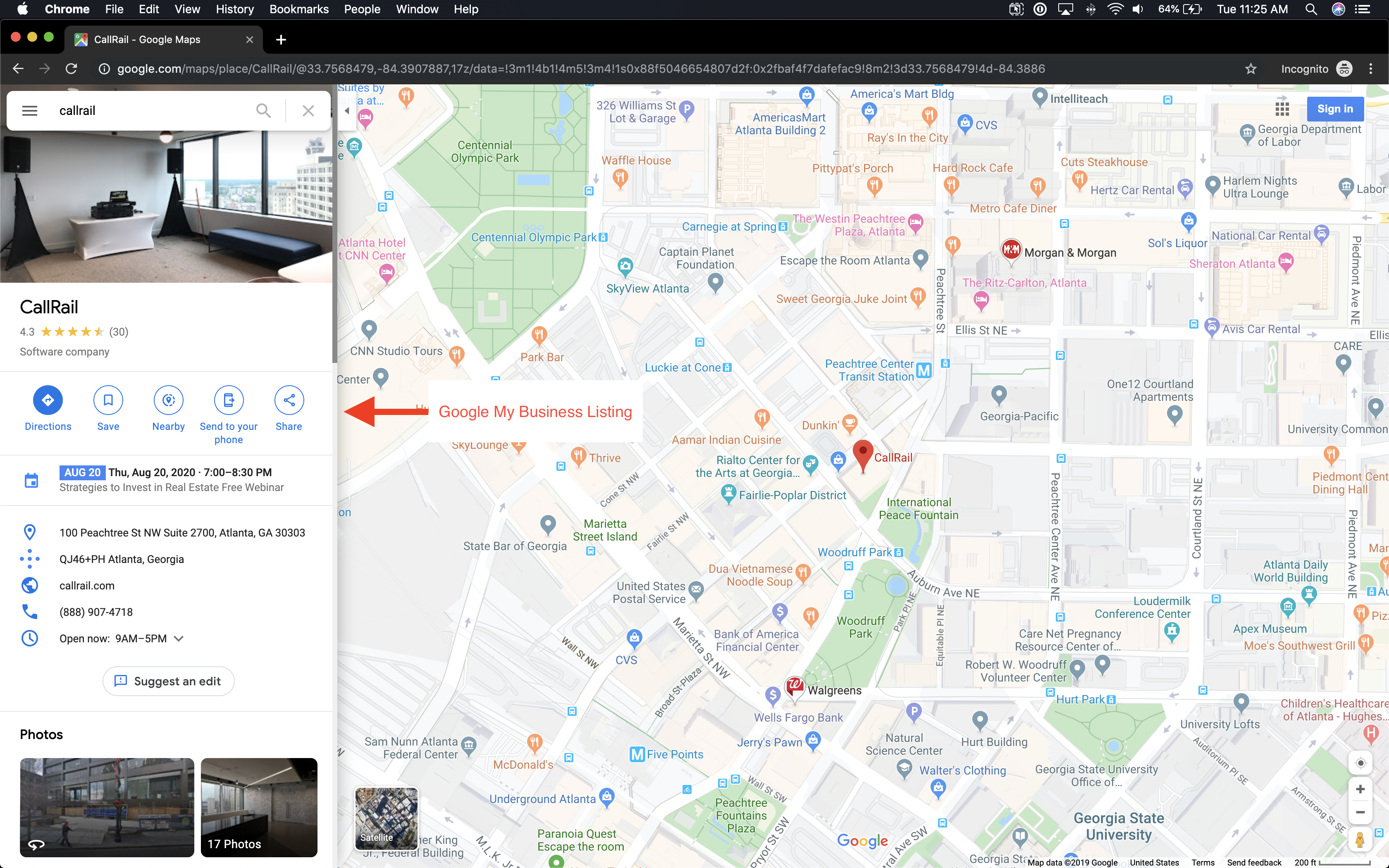 What is NAP Consistency?
NAP consistency, a.k.a. citation consistency, is designed to make sure your business uses the same name, address, and phone number in multiple places online. It was once considered an important ranking factor in local SEO, although most industry experts agree that it no longer carries much impact.
Still, it's a good practice to keep your main business number connected to the local search ecosystem. GMB allows you to enter an additional number associated with your business, so you can display a CallRail tracking number in your GMB listing while also including your main business number as part of your GMB profile.
How to use a CallRail tracking number in a GMB listing
CallRail's Google My Business integration seamlessly inserts a tracking number into your GMB listing for use as a primary business number. It also gives the option to set a location extension that will display in your Google Ads.

The integration optimizes CallRail reporting by specifically labeling GMB-related call traffic. For more information on integration setup and usage, please see our Google My Business support article.
If manual installation is necessary (such as needing to integrate with multiple locations), follow these steps:
Create a new tracking phone number by clicking the plus icon at the bottom of the left navigation bar.


When presented with options, choose I'll use it online, then Somewhere else, and then Yes, in an ad extension. Personalize further details as necessary.


After the number's creation, click the Settings icon on the left navigation bar. Locate your new number and click the pencil icon to edit its settings.


On the next page, click the pencil icon in the upper-right of the Number Insertion Options section. On the page that follows, scroll down to the Tracking Sources section and select Google My Business.


When creating your listing in GMB, insert the tracking number you created into the Contact phone number field on the screen requesting your contact details.


For the most accurate call-tracking, in the Current website URL field, amend the following to the end of your URL:

/?utm_campaign=GMB


An optional Google Ads location extension can be added to guide leads from your ads to your GMB profile. See this help article for more details on location extensions.


Within GMB, select Ads & extensions in the left-hand sidebar, then Extensions at the top of the page that follows, and then click the plus button and choose Location extension from the menu that appears.


Insert the tracking number you want to use into the field.


How to track callers from other sources who first clicked your GMB listing
In addition to contacting you through the phone number shown in your listing, people can also click on the listing's website button, go to your website, and call you from the number listed there. CallRail's advanced tracking capabilities can trace these calls back to your GMB listing as well.

These tracking capabilities rely on UTM parameters that need to be amended to your site's URL, and those parameters can be automatically set up by using our Google My Business integration. This will remove the need to manually enter anything within your GMB settings.
Note: These UTM parameters will also automatically track traffic that arrives at your website from your GMB listing in Google Maps, so all interactions between customers and your GMB listing will be accounted for.