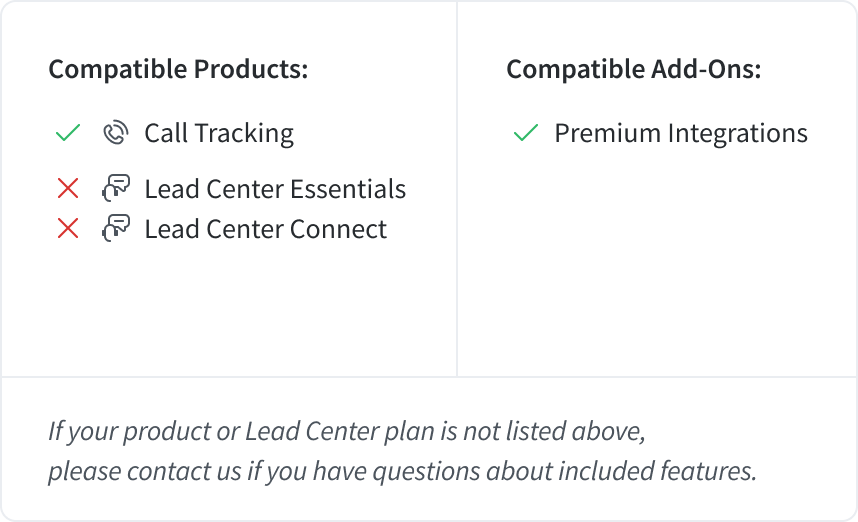 Acquisio is a bid management platform that helps track and optimize your ad spend. When you integrate CallRail with your existing Acquisio account, you can see calls to your tracking numbers alongside the campaigns you're managing in Acquisio. You're able to use this data to create optimal bidding rules and map each call back to the PPC keywords callers used to find your business.
Getting started
In order to match individual callers with website sessions, this integration requires visitor tracking with your company's JavaScript snippet installed on your website.
During the setup process, you'll select CallRail as the call tracking provider in Acquisio. If your account is white labeled, this means your clients may see CallRail's name as a label for their call data.
Adding your tracking ID
First, add Acquisio's unique tracking ID (trkid) to your destination URLs in Acquisio. This is available in the administrative section of your Acquisio account within External Data Sources.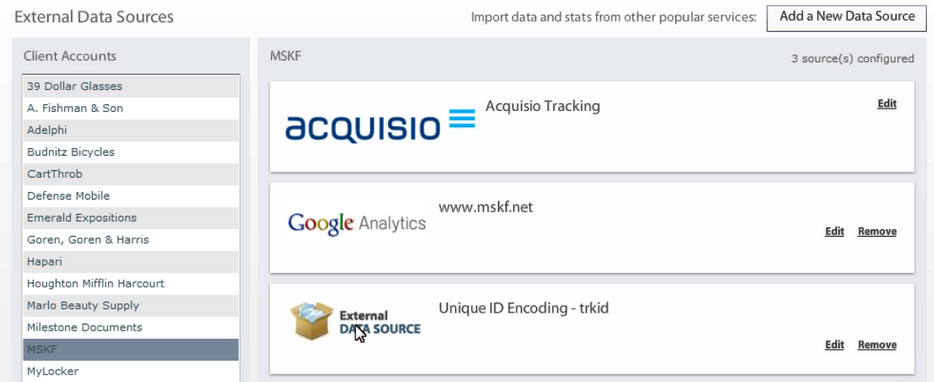 Integrating with Acquisio
To set up your Acquisio integration, you'll contact your Acquisio account manager and request access to CallRail's integration. In order for your Acquisio account manager to complete the setup process, they'll need your company-specific API token and company ID in CallRail. Follow these instructions to access this information for your account manager.

Note: The directions below reflect an update to our Acquisio integration. If your integration was set up prior to this update, it is still functional and no additional action is necessary.
Click the Settings icon on the left navigation bar.


Choose the company you'd like to integrate with Acquisio.


Click Integrations at the top of the page.


Choose Acquisio from the list of available integrations.


In the Account Information section, select Create New API Key. This API key will need to be copied within 15 minutes before its visibility expires and a new one needs to be created.


Click Copy to Clipboard to capture your Account ID, Company ID, and API key for insertion into Acquisio's respective fields.


Once the integration is active within Acquisio, CallRail and will begin sending data automatically.
Activating your Integration
Once you have your account ID, company ID, and API token as outlined above, you'll enter your details into Acquisio. Then, your Acquisio account manager will walk you through the remaining steps to integrate with CallRail.
Under your Acquisio account profile settings, enter your CallRail company ID into account field 11.




In a separate browser window, open your Acquisio account. Navigate to Acquisio's integration settings page and select CallRail.


Select Request to send a note to your account manager, who will ask for your CallRail company ID and API token.
FAQs
How can I disable my Acquisio integration?
Since this integration is configured within your Acquisio account, we recommend reaching out to your Acquisio account manager to disable your integration with CallRail.