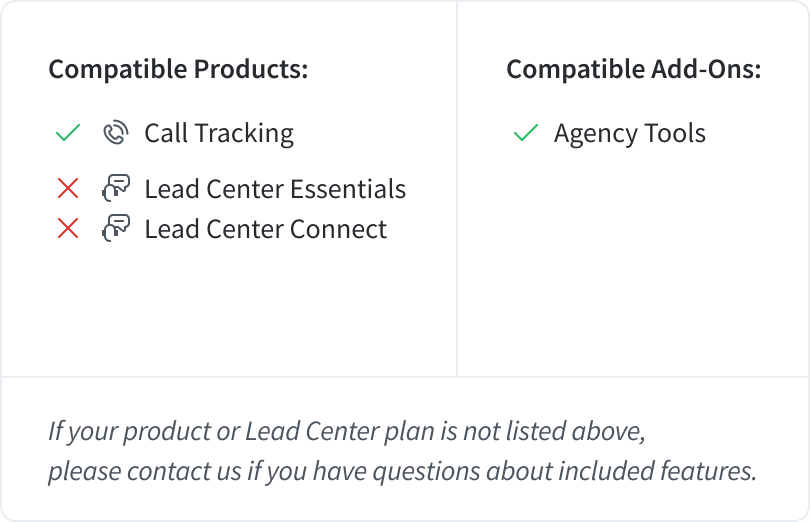 If you'd like to create a custom white label domain with an SSL certificate, you're able to create a subdomain on your domain (ie. calls.yourname.com).
Getting started
Before getting started, contact CallRail's Support team to let us know you'd like to use a different domain for your dashboard.
Alternatively, if you'd like to use CallRail's white label subdomain solution, you can set it up yourself using this help article:
White Labeling on CallRail's Domain
White labeling your account
After reaching out to our support team, you can customize your white label dashboard.
Click the Account icon in the top left, then select Account Settings.


Choose White Label from the Account header on the left.


Enter the support email address you'd like to use. This is the email address where email notifications will be sent from.


Select the custom color that you want to apply to the account.




Upload your company's logo by clicking Browse. The logo you choose will appear in three places: the navigation header in your account, login screen, and email notifications.





Select Activate when finished.
Custom domain configuration
Once you've activated white label on your account using the instructions above, contact our support team and let us know that you'd like to configure a custom domain for white label. We'll provide the CNAME entries and SSL certificate needed for your custom domain.
We also recommend visiting your new domain name in a web browser and confirming that it points to CallRail once you've added your CNAME entry. If you're not sure how to do this, contact our Support team, we'd be happy to assist you.
CNAME documentation for domain name providers
The following list contains links to custom subdomain documentation for several of the top domain name providers:
FAQs
What is the recommended size for the images used for white labeling?
We recommend uploading a high-resolution image around 400 x 120 to ensure a sharp and clear display.