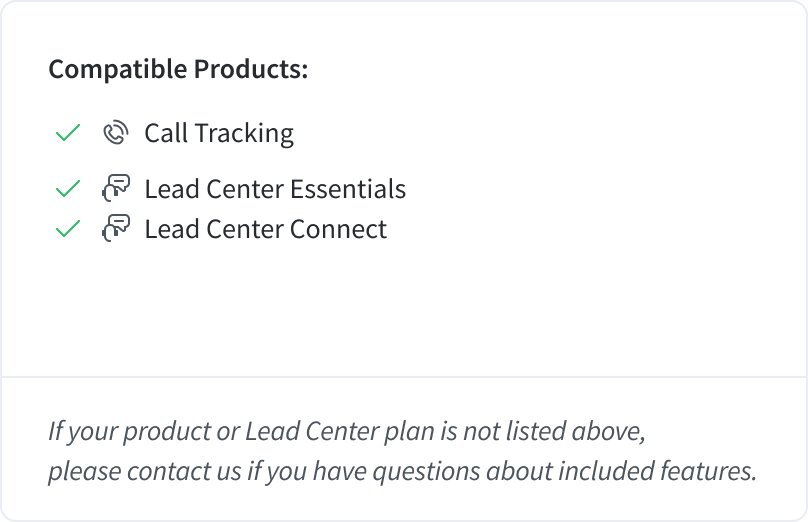 The Lead Attribution report shows which marketing sources are driving raw and qualified leads for your business at specific points in the sales funnel using our multi-touch attribution modeling. You'll get a combined view of all sources and interaction types you're tracking in CallRail at each stage in the sales funnel. For example, if a lead filled out a form and then called your business, the attribution for each would be captured under the same lead and given credit at the right part of the sales funnel for reporting.
Read this article to learn about our attribution models and how to use them.
Getting started
The basic version of this report is available to all users with a Calls plan, but detailed information on specific sources is restricted to users with a Forms plan.
Need to print, export, or save a report? You can follow the instructions in this article to do so.

View Your Lead Attribution report
Click Analytics on the left navigation bar.


Select Reports at the top of the page. The page defaults to the view of your Lead Attribution report.


You'll see a breakdown of the current total leads for each source you're tracking in CallRail with your top five sources displayed in the graph above and a further breakdown in the table below. This report is divided by raw leads and qualified leads.


Use the filter panel at the top of the report to choose one or more companies, a reporting time frame, and an attribution model for your report.

Your report initially loads with the 50/50 Model selected, but you can change models anytime.




You can also click Add Filter and choose Interactions to select one or more interaction types for more targeted reporting.

For example, if you select only Calls, it will only show leads that have called your business and exclude leads that have only contacted you via a form submission or text.


If you choose to explore your data further, you can click on a number within the table to drill-down into the raw or qualified lead counts to see the specific leads that were attributed to a source of your choice. Note:


This report is automatically saved after it's been created.
Get keyword and session data
In order to get granular data for this report, it's best to use a website pool for your online lead tracking and add tracking templates to your ad networks. Google Ads automatically applies tracking templates. If you're using Microsoft Advertising and Facebook Ads, use the articles below to add tracking templates for better lead reporting.
Set Up Microsoft Advertising for Lead Reporting.
Set Up Facebook Ads for Lead Reporting.
FAQs
How is the Lead Attribution report different than my Call Attribution report?
This report gives you a combined view of lead attribution for all interaction types you're tracking in CallRail (ex. calls, texts, and form submissions) using a lead-based model for reporting instead of attribution for individual calls and forms like in the Call Attribution or Form Attribution reports. This means that every contact will be tied to that specific lead and given attribution at the correct step in the sales funnel based on that lead.
Why are there multiple rows in this report that are labeled Google Ads?
Leads that are labeled Google Ads have been tracked in conjunction with your Google Ads integration. You can click on data in this row to get additional lead data, such as the keyword or Ad ID associated with a specific visitor.
Leads that are classified as Google Ads are leads that our system has recognized as a Google pay-per-click conversion, but that did not correlate with Google Ads. One example of this is Google Ad Extensions.
The same explanation applies if your report includes multiple rows for leads from Bing and Facebook.
Why don't I see any qualified leads?
If you don't see any qualified leads on the report, use this support article to learn more about how to qualify leads in CallRail.