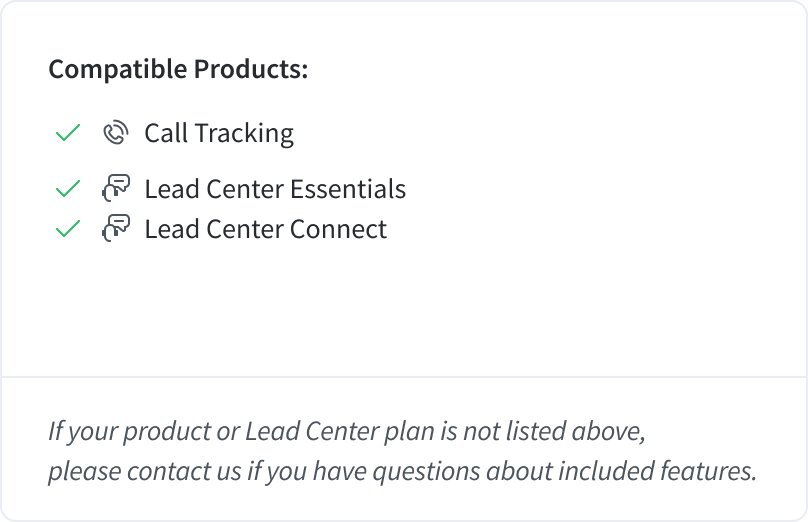 Visitor tracking allows you to correlate calls to unique website visitors and track which PPC keywords you're bidding on are driving the most phone calls. In this article you'll learn how to create a website pool that dynamically swaps for each new visitor.
Note: you'll need a website pool if you want to report on calls by PPC keyword or to send call conversions to ad platforms like Google Ads.
Getting started
If you'd like to add more than one website pool per company, you can follow the instructions in our support article to enable multiple website pools in your account and then return to this guide.
To create a website pool for countries outside the United States and Canada, our support team will need to update your account first. Read this article to learn more about call tracking in your country.
Create a website pool
From the homepage, click Create Number to create a new number, or click the Create (+) icon in the left navigation bar and select Phone Number.


Choose the company where you'd like to add your new tracking number.


On the screen that follow, select I'll use it online.


Select On my website since these numbers will dynamically replace the telephone number on your website.


Select Calls, keywords, & web sessions since this pool targets each individual visitor's session on your website.


Set up your call routing by entering the telephone number where we should route your calls. This is typically your primary business number. If you're using Lead Center, you'll see a second option for Lead Center's softphone you can select instead to route calls to a Lead Center Agent or Team.



Select the source(s) you'd like to track. Then, click Website Pool Setup.


On the next step, type in the name of your pool, and enter the desired pool size. The name you enter is how your website pool will appear within your reports.

Note: the minimum requirement for a website pool is four numbers. This is to reduce the chance of a visitor-to-call misattribution. For more details on assessing website pool size, please see this help article.




To create a website pool with numbers from a specific local area code, enter your desired area code in the first box. To create a website pool with toll-free numbers, choose the second box, and select one of the available toll-free area codes from the drop-down. Then, click Number Features to move to the next step.




Configure your number features as desired. When you are finished, click Activate Tracking Number.

Note: to purchase an Australian or UK tracking number, please provide an address to associate with the tracking number. This does not have to be a local address and can be your business's main address.