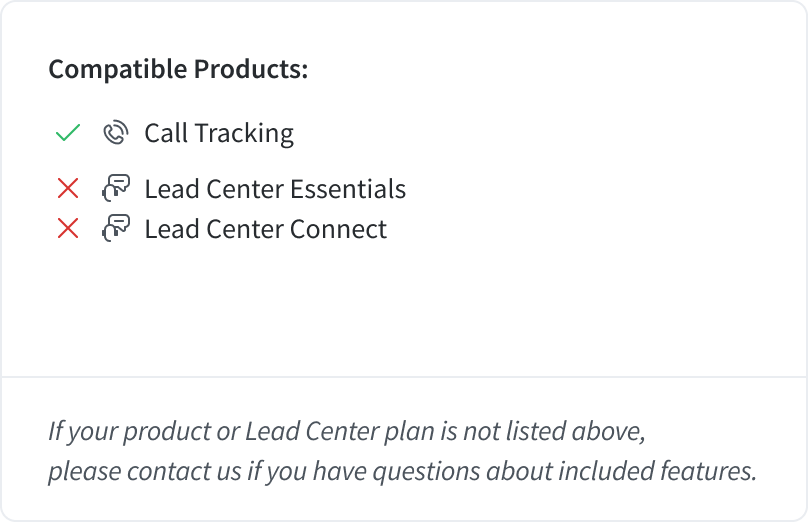 CallRail's Google Ads Call Details Forwarding (CDF) integration allows you to track keywords associated with your customer's mobile searches and view calls as conversions in Google Ads. This gives you insight into the keywords associated with calls to your call-only ads, as well as your campaigns that have call extensions.
Getting started
This integration does not require a prior Google Ads integration and can be utilized with all tracking numbers, as long as they are set as either of the following within their Number Insertion Options:
- Google Ad Extension.
- Mobile Ad Extension.
For more information on editing number insertion options for any tracking number, refer to this help article.
Important
While you can receive gclids and campaign IDs for your CDF calls without a Google Ads integration, you won't receive keywords and campaign names. To receive keywords and campaign names, you will need to activate
the Google Ads integration
. To view gclids, you'll need to export your data into Excel with all columns listed.
Calls to your tracking numbers used with this integration must be at least 15 seconds long for their enhanced data to be captured.
Integrating with Google Ads Call Details Forwarding
Every step of enabling CDF takes place within Google Ads (with the exception of creating your tracking phone numbers within CallRail). Please ensure that your desired configurations for Call conversions are set up within Google Ads before proceeding.
This integration is company-dependent within your account. Use these instructions for each company where you'd like to activate CDF.
Make sure you've placed your Ad Extension tracking number(s) wherever you want to use them in ads. Not sure how to do this? Follow the steps in this support article to learn how.
Sign into your Google Ads account.


Click All campaigns in the left navigation menu.


Click Settings in the page menu, then click the Account settings tab.


Under Call reporting, select On.


Under Send Google Ads data to a Call Reporting provider, select On.


Under Call Analytics Provider, select CallRail.


Select any other desired settings and click Save.
For more information on enabling Call Reporting within Google Ads, refer to Google's help article.
Your Google Call Details Forwarding data
Once your integration is active and you've received calls to tracking numbers associated with it, your keyword data will appear in your call log and in your caller's timeline.
Select Analytics on the left navigation bar.


Click Activity at the top of the page.


Choose the company whose data you'd like to review.


The Keywords column displays the keywords each caller used to find your ad.


To see additional information about a specific caller, click to open their Timeline.




Within the Timeline view, the keywords the caller used are available in the Caller box next to Initial Source.
How conversions are posted
CallRail does not post conversions to Google Ads for CDF calls. Google will track conversions for these calls according to the "Call Conversion Settings" that you set in your Google Ads account. Calls to your website pools will continue to post through the "normal" Google Ads integration.
You can adjust your Google Ads conversion reports to include the CallRail conversion actions (Phone Call, First-time Phone Call, or Repeat Phone Call) and the Google Ads call conversion actions to get the full picture of all call conversions in Google Ads. However, the conversion settings applied to your call conversion actions in Google Ads can impact the count of conversions when compared to tracked CallRail calls.
Deactivating your integration
Deactivating the CDF integration involves accessing Google Ads's Call reporting section as outlined in the above Integrating with Google Call Details Forwarding section.
Setting "Call reporting" to Off will completely deactivate any Google Ads call reporting. Adjust any other necessary settings and click Save to deactivate this integration.
FAQs
When will my keywords appear in CallRail?
If you have an active Google Ads integration, keywords and campaign names will populate for your CDF calls the day after the calls occur.
How do Integration Triggers within CallRail interact with this integration?
Integration Triggers and the "Send values delay" setting do not apply to the Google call details forwarding integration, though they still apply to CallRail's other Google integrations. This is because Google Ads is reporting any call details forwarding conversions itself.
Why is there a different tracking number that isn't from CallRail in my ad?
Since this integration uses Google's Call Reporting, your ads will be served with a Google Forwarding Number that connects to your CallRail tracking numbers and then routes according to their setup in CallRail.
Why are tracking numbers not being shown in my desktop ads?
Google forwarding numbers may not show with desktop ads if your ad group isn't getting a minimum number of clicks in a 4-week period. Your business phone number will be shown in that case. (There is no minimum requirement for ads on mobile.)
For more information on Google's policy regarding this, refer to their help article.