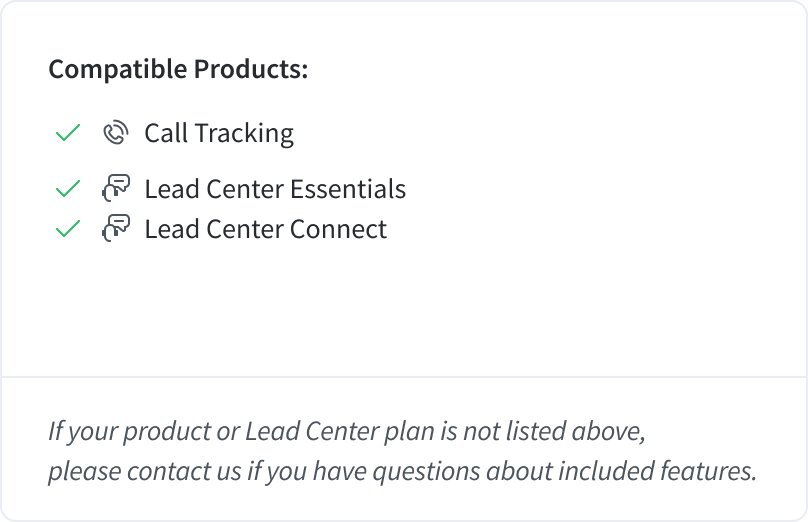 CallRail's Call Flow Builder provides incredibly powerful routing options for your tracking numbers. This article walks you through some of the most common questions we receive about routing through the Call Flow Builder.
Getting started
Because the Call Flow Builder allows for such a great level of customization, we recommend placing some test calls to your tracking numbers to ensure your calls are routing to the right place.
For a quick overview of common questions we receive about call flows, watch this video:
Check the destination number
Ensure the correct destination number is in your call flow.
In a Dial step, Simulcall step, or Round Robin step, you'll need to enter a destination number where calls should forward. In many troubleshooting instances, we've found that these numbers have simply been entered incorrectly, and a quick review can yield a simple fix.
If you confirm that the destination number is correct in these steps, we recommend placing a test call directly to your destination number to see if it is currently active. If it leads to the call disconnecting, you'll need to reach out to your destination number's carrier for troubleshooting.
Adjust ring time
Your ring times may be set to be too short.
The call flow steps that involve a destination number also allow you to decide how long the call will ring once connected. Our recommended and default time is 20 seconds. We only recommend reducing it below that time if you have a very specific or unique routing scenario.
Note: The shortest ring time (5 seconds) is probably just going to be a single ring before transferring to the next step in your call flow. We strongly recommend you place test calls through any call flow utilizing ring times below 20 seconds to make sure it works as you'd expect.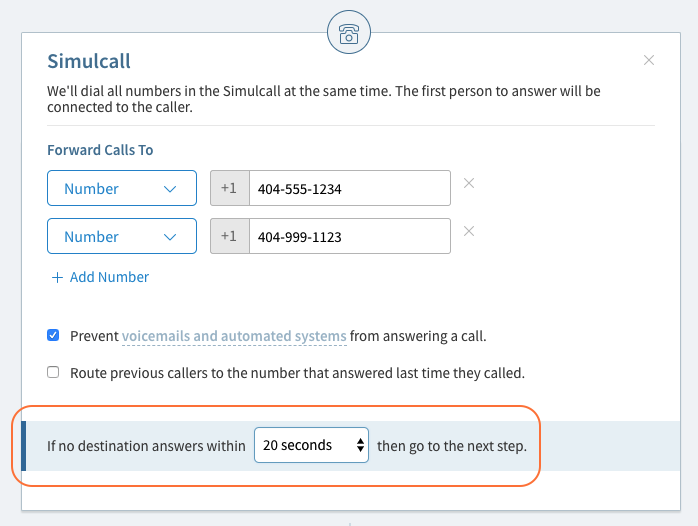 Additionally, we offer adjustable amounts of time that a call can dial for, but not an adjustable number of rings. The number of rings relies on many factors outside of our control, such as the brand of phone and the destination number's carrier.
Deactivate automated systems
Prevent voicemails and automated systems from answering a call.
If you are using a Dial, Simulcall, Round Robin, or Voicemail step, we strongly recommended that you use this setting, which is a checkbox presented in each of these steps in the Call Flow Builder.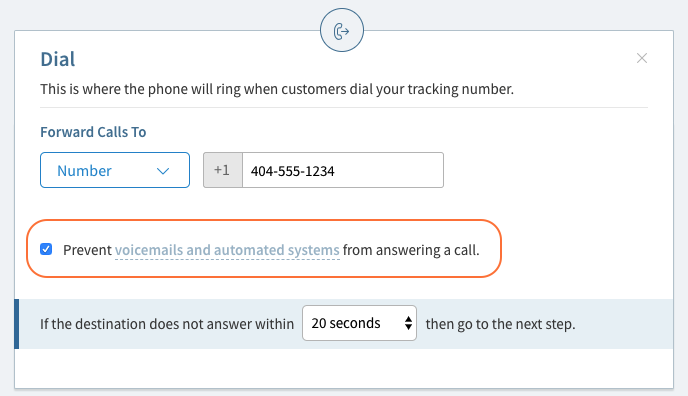 This step prevents external voicemails and any other systems from automatically answering a call, as they would interrupt the routing you've created in CallRail.
For instance, if this option is not turned on and you are using a Dial step with a Voicemail step ending the call flow, the voicemail attached to your destination number would count on our end as the call being answered and the caller would not reach your Voicemail step.
Similarly, on a Simulcall or Round Robin, if this option is turned off and one of the multiple destination numbers attached declines the call or has their personal voicemail take the call, all other numbers in the Simulcall or Round Robin will stop ringing, as CallRail will see the call as having been answered.
While this option is often necessary, it does require the person answering the phone to press 1 to connect. If this functionality is causing issues, please reach out to our Support team.