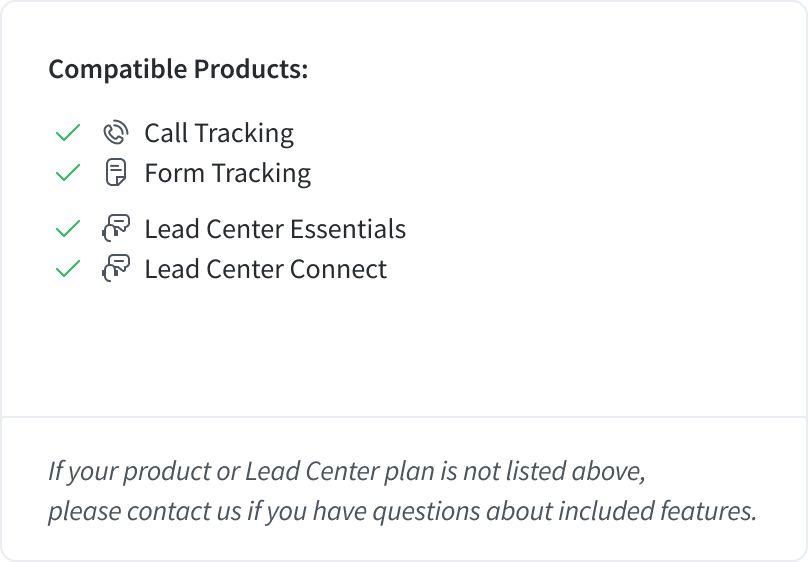 CallRail's WordPress call tracking plugin allows you to dynamically swap the phone number displayed on your website. Each company in your account has its own unique token you'll use when installing the plugin to your WordPress website. Please note that if you install the plugin, you do not need to install the JavaScript snippet; the plugin automatically installs the JavaScript snippet on every page of your website.
How the WordPress plugin works
Each tracking number you create can be assigned a source (like Google Ads, Bing Organic, Yelp, Facebook, etc.) and the correct tracking number will display when a user reaches your website via one of those sources. You'll also be able to track any form submissions on your website by enabling external form tracking or adding a custom form.
Getting started
There are a few important details you'll need to know before you get started with the WordPress plugin:
Once you've installed the plugin on your website, be sure to test your installation before your campaign begins.


Our plugin detects multiple number formats, including:
111-222-3333, 111.222.3333, and (111) 222-3333.


Special steps are necessary to swap phone numbers in images.


The WordPress plugin automatically installs CallRail's JavaScript snippet on every page for you. The snippet must be embedded on the visitor's landing page, as well as each page on your website that displays a phone number.


To begin tracking form submissions with CallRail, you will need to enable external form tracking for your company or create a custom form.
If the plugin is already set up but you sense something may be wrong, check out our WordPress plugin troubleshooting community post.
How to install the WordPress plugin
The WordPress plugin you'll use for your website is company-dependent within your account. Use these instructions to learn how to upload the WordPress plugin for a specific company.
Click the Settings icon on the left navigation bar.


Choose the company whose plugin you'd like to activate.


Click Integrations at the top of the page.


Click on the WordPress tile to show those instructions.


Open a separate browser tab and log into your WordPress account.


Within Wordpress, select Plugins, then search for CallRail.


When you have located the CallRail plugin in Wordpress, click Install Now and then Activate.


Once your plugin is successfully installed, select Settings in the left menu, then click CallRail.




Add the WordPress plugin key from the Integrations page within CallRail to the plugin settings in WordPress.




Click Save Changes to activate your plugin.
FAQs
Why isn't my telephone number swapping?
Have you cleared your cookies, or tried accessing the website in a private browsing session? The most important part of testing dynamic number insertion is to simulate the experience of a first-time visitor before testing. Otherwise, the swap code will detect you as a visitor to the website from a previous session.
Learn more about testing dynamic number insertion with this help article.
You can also check out our community post for some tips on troubleshooting the Wordpress plugin.
Do I need to remove the JavaScript snippet if I deactivate call tracking?
CallRail's JavaScript code is company-specific. If you don't plan on creating new tracking numbers in the same company where your tracking number(s) has been deactivated, you can safely remove the WordPress plugin. However, if you leave the plugin on your website, the numbers will no longer swap since those numbers have been deactivated. If you want to continue tracking forms, do not remove the JavaScript snippet.
Can I have a white-labeled version of my plugin?
Yes. Use the instructions above when logged into CallRail via your white label domain to access a white label version of your plugin. Note: When interacting with the plugin in WordPress, please be aware that the plugin is titled CallRail. If that is not acceptable, we recommend manually installing the JavaScript snippet.
Why don't I see tracking data for incoming form submissions from an external form?
Use this help article to troubleshoot external form submissions.