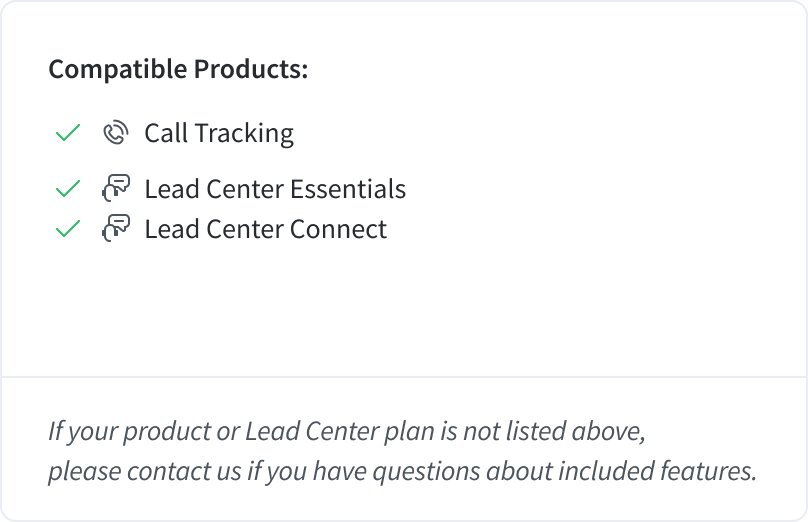 CallRail's number creation wizard guides you through creating a tracking number for your campaigns. Each time you create a new number, you'll answer a few simple questions about your campaign. Then, you'll pick your tracking number and configure your whisper message and recording preferences. After you've completed these steps, your tracking number will be active and can start taking calls immediately.
Getting started
For instructions on setting up a specific type tracking number, choose from one of the articles listed in this section.
To create new tracking numbers for countries outside the United States and Canada, a member of our support team will need to update your account first. Read this article to learn more about call tracking in your country.
Once you've created a new tracking number, we recommend placing a test call to that number. When placing test calls, be sure to use a phone that is not your destination phone number, such as your cell phone.
Create a new number
Tracking numbers are company-dependent within your account. Follow these instructions to create a new tracking number for an online or offline campaign.
From the homepage, click Create Number to create a new number, or click the Create (+) icon in the left navigation bar and select Phone Number.


Choose the company where you'd like to add your new tracking number.


The new number wizard will appear on your screen. The first question asks, "Where do you want to use this tracking number?"

- Select I'll use it online to create a number for a web campaign.

- Select I'll use it offline to create a number for an offline campaign.

Set up your call routing by entering the telephone number where we should route your calls. This is typically your primary business number. If you're using Lead Center, you'll see a second option for Lead Center's softphone you can select instead to route calls to a Lead Center Agent or Team. Then, click Tracking Options move to the next step.


Name your tracking number for your reports and settings.


Choose the call tracking phone number you'd like to purchase by picking from one of the three options for local and toll-free numbers.


Once you've picked your number, click Number Features to move to the next step.


Configure your whisper message and call recording. When you're finished, click Activate Tracking Number.


To purchase an Australian or UK tracking number, please provide an address to associate with the tracking number. This does not have to be a local address, and can be your business's main address.


Once you've completed the number creation process, you can choose one of the suggested next steps to further configure your new tracking number, or Go to Activity Dashboard.
FAQs
Can I create a vanity or alphanumeric number with CallRail?
We don't provide vanity numbers, but we'd be happy to help you port a vanity number into your CallRail account to use as a tracking number if you purchase it somewhere else. Two websites we recommend are https://tollfreenumbers.com and https://800forall.com. Once you purchase your vanity number, you can follow these instructions to port your new number to CallRail: Port a Number to CallRail.
Can tracking numbers be added to 411 directories?
We don't offer a service that would add tracking numbers to a 411 directory or any other directory services.
Can CallRail tracking numbers receive verification texts or calls?
No, CallRail tracking numbers cannot receive verification calls or texts from external or third-party services because it violates the Acceptable Use Policy outlined in our Terms and Conditions.