Source-level tracking allows you to use a unique tracking phone number for each marketing campaign you want to track. For instance, you might want to track calls from Google visitors, a yellow pages ad, and a direct mail campaign, so you'd create three tracking numbers total, one tracking number for each source, and forward each number to your main business phone number.
Using your source tracking number
You can use your source tracking number wherever you like, but it's best to use one source tracking number for per campaign. This will prevent inaccuracies with your reports. You can create other source tracking numbers for additional campaigns.
A source tracking number can be used for online and offline campaigns. You can also track calls from a call extension with this type of tracking number.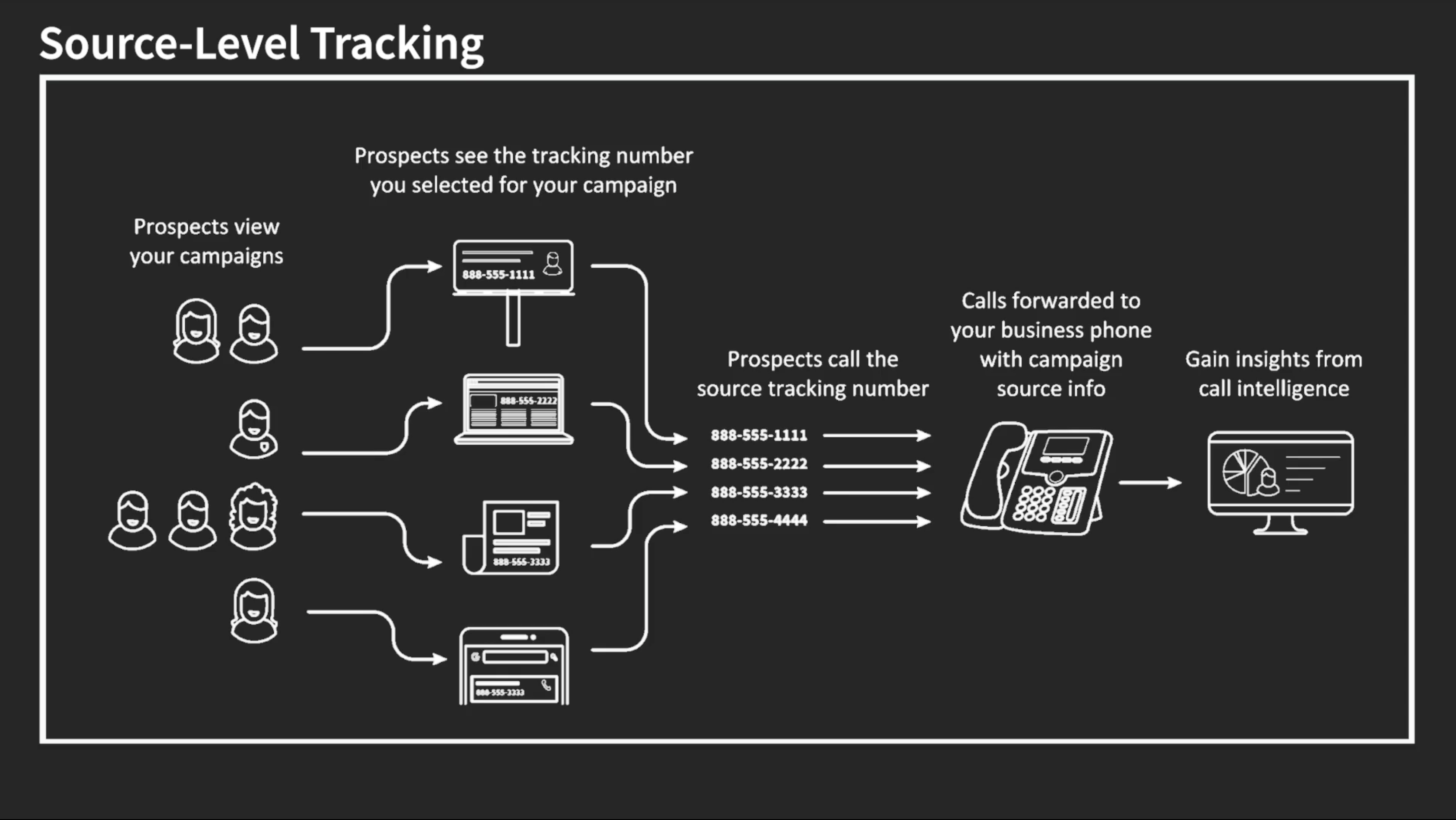 Sources that can be tracked
Examples of online sources include:
- Paid search results from ads through Google, Bing, Yahoo, and DuckDuckGo.
- Paid social media campaigns such as Facebook, Instagram, Twitter, LinkedIn, YouTube, Pinterest, NextDoor, and Spotify.
- Organic search traffic from Google and Bing.
- Organic social media listings like from your Facebook page.
- Referral pages and web directories such as Google My Business and Yelp.
- Landing pages.
Examples of offline sources include:
- Printed material such as flyers, signs, and business cards.
- Phone directories such as white or yellow pages.
- Television and radio advertising.
- Call extensions.
Available data
When you use a source tracking number, you'll receive the following information about each of your calls:
- The name of the tracking number that received the call.
- The channel or campaign source of the call (this is important if you use our JavaScript snippet).
- The tracking number that received the call.
- Date and time of the call.
- The caller's caller ID information, including their name and telephone as configured by their carrier.
- City.
- Duration of the call.
- A visitor timeline that includes inbound and outbound calls associated with a caller.
Source tracking timeline data
Click Analytics on the left navigation bar.


On your call log, click Timeline for the call you'd like to view.




View your caller's timeline, which includes all of the information listed above.



FAQs
Can I integrate with Google Analytics?
Yes, you can integrate and send call data to Google Analytics with source-level tracking.

Can I integrate with Google Ads?
You won't be able to see your call conversions in Google Ads with source-level tracking numbers. The only exception to this rule is if you're using a source tracking number specifically for our Google Ads calls details forwarding integration.
Learn more about our Google Ads calls details forwarding integration.

When should I use dynamic number insertion?
CallRail's JavaScript code for dynamic number insertion is the key to displaying a number to your website visitors without changing the phone number in the HTML.

Do I need a different JavaScript code for every number?
No. We keep it simple by making the JavaScript code company-specific. Every number you create under one company within your account will use the same JavaScript snippet.