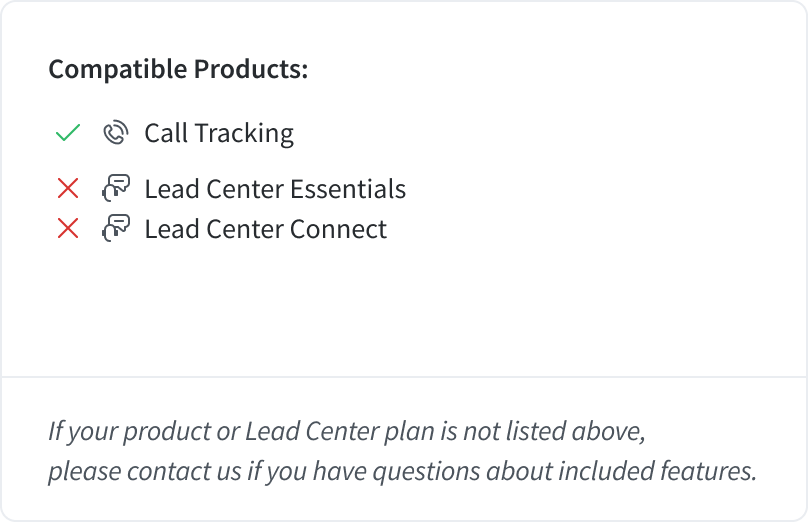 First time here? In less than 10 minutes, you'll have everything you need to start tracking phone calls.
In addition to defining a few basic terms, use this article to learn how to:
Create a CallRail account.
Create your first tracking phone number.
Install your JavaScript snippet.
Set up notifications.
Place a test call.
View your call statistics.
If you're looking for a walkthrough, you can check out the call tracking basic setup demo in this community post.
Getting started
To use CallRail, you'll need an account. If you don't have an account already, here's how to set one up:
Choose the pricing plan you'd like to use for your 14-day free trial, and fill out the form with your information.
We'll automatically log you in so you can get started.
Create your first tracking phone number
Immediately after signing up for a free trial, you can choose which kind of tracking number you want to create. Later, after each time you log in, you can create a tracking number by clicking the Create Number button on the homepage or the Create (+) icon in the left navigation bar and selecting Phone Number. You can create numbers for many specific online and offline purposes, as described in detail in our Create a new number support article.
Whether you want to create a number to use on a website or in a print ad, going through the setup wizard's quick questions will have you set up for any situation!
See what type of tracking phone number you should create with this help article.
Install your JavaScript snippet
If you're using online numbers, placing our JavaScript snippet on your website will allow us to automatically swap your existing numbers with tracking numbers you acquire through CallRail using dynamic number insertion.
Installation can be done manually, or through platforms like Google Tag Manager or WordPress. For full instructions, see our help article on Installing the JavaScript Snippet.
Read this article for an overview on how dynamic number insertion works.
Set up notifications
You can create notifications for any number in your CallRail account. These can be set to alert any of your team members of any incoming calls and texts, missed calls, or even if a customer leaves you a voicemail.
Check out our Call and text notifications article for setup instructions and never miss a customer who reaches out to you.
Place a test call
To confirm everything works as expected, we recommend placing a test call to the tracking number you just created. To do this, use a phone that is different than your destination phone number, such as your cell phone.
When you dial the tracking number, the destination phone should start ringing, and you'll know all setup steps were successful!
View your call statistics
Now that you've created a tracking number and placed a call, you can go to your activity dashboard at https://app.callrail.com/ to see the data we collected on the test call you just placed.
Take a look at our Activity and report filters help article to learn more about our powerful filtering options. They'll let you focus on the aspects of your customer activity that are most important.